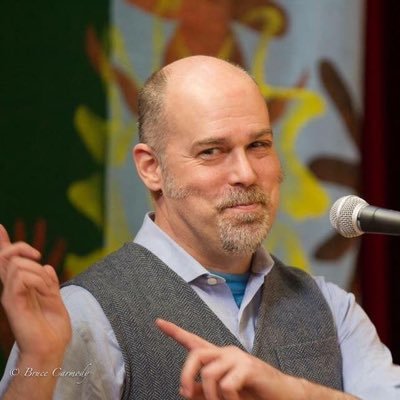 "Brian Walsh is a professional storyteller specializes in Celtic Mythology as a source of wisdom and humor, discomfort and delight.  Brian's background is in Psychotherapy, World Religions, and Celtic Studies. He has told at diverse venues including the Toronto Storytelling Festival, Schools/Universities, and around the campfire under the stars."
In one form or another, I have been a storyteller all my life, but I really started focusing on it as part of my vocation in 2012. I have hundreds of public tellings under my belt, with highlights including a session for  participation in the Toronto Storytelling Festival or related Storyfire events (2020 one day before it was closed down due to Covid, 2019, 2018, 2017, 2016, 2015, 2014), Word on the Street — Toronto (2019), the Parliament of World Religions Conference (2018), while guest lecturing for a class at University of Toronto's Celtic Studies Department ( 2017, 2016, 2010, 2009), "Up Yer Celt: a StoryFusion Ceilidh" (2016), the Wheel's Samhain event at Dundas Square (2012).
I'm also a member of the York Storytelling Guild, a group that performs together at several events every year. And, I can also be found telling amid other storytellers, poets, and musicians, at various salons and at 1001 Friday Nights of Storytelling.  I specialize primarily, but not exclusively, in telling Irish stories geared to an adult audience.
Storytelling, and story listening, can be therapeutic, insight-enhancing, and just great fun.  This has made it a vital part of my own self-care, and something I love to share with others. I am especially interest in the role of sacred stories as a vehicle for healing, wisdom, and building deeper relationships, all while having some fun along the way.
Signature Stories:
"The Coming of the Sons of Mil"
"The Birth of Lugh"
"The Tale of the Two Bulls"
And so much more from Celtic Mythology and further afield:

Mythic:
"The Coming of the Sons of Mil"
"The Birth of Lugh"
"Miach and Airmid; the Children of DianCecht"
"Lugh's Arrival in Tara and the Second Battle of Mag Turid"
"The Birth of Oengus and How Oengus got his Sidhe"
"The Children of Ler" One of the 'Three Sorrowful Tales of Ireland'
"The Sons of Tuireann" One of the 'Three Sorrowful Tales of Ireland'
"The Coming of Angus and Bride" a Scottish story of love and of Spring
Ulster or
Red Branch:
"How the Táin Bó Cuailgne was Re-Remembered"
"The Dream of Oengus"
"The Tale of the Two Bulls"
"The Adventure of Nera" (a Samhain/Hallowe'en Story)
"Deirdre's Story" aka "The Exile of the Sons of Usnech"
One of the 'Three Sorrowful Tales of Ireland'
"The Birth and Childhood Deeds of CúChúllainn"
"Pillow Talk – How the Táin Begins"
"CúChúllainn and SenBec"
Finn &
the Fianna:
"Diarmaid and Grainne"
Other Tales:
"The Voyage of Bran"
"The Bull and the Hag"
"Niall and the Hag" a tale of ancient kingship
And a  few
from Wales:
"The Tale of Gwion Bach" aka "The Birth of Taliesin"
"The Tale of Lleu" aka "The Fourth Branch of the Mabinogi"
"Culhwch and Olwen" a story of love and of Spring
"Lludd and Llefelys"
The Tales of Brother Wingfoot:
These wild first-person tellings put a Southern New World spin on ancient mythic stories of Greece.  Making these ancient tales both more familiar and less familiar, you'll feel like you're hearing them for the very first time, but at their core, you'll see I haven't changed a thing.
"How Winter and Spring Came to Be"
"My Humble Start" or "How I invented the Banjo and Got a Place at Daddy's Table"
"How Sister Far-Shot Gets Her Own Wagon"
"Poor Laurel" or "How Brother Far-Shot Loses by Winning"
"The Weaving Contest"
A Note on "True Life" Tales vs. Traditional Storytelling:
While I think the power and wisdom of Mythic Story and Folktales are often underestimated in today's world; a growing focus on personal stories and story-worthy incidents in biography and history has given us another way to find meaning in day to day life. I love these stories, but I don't tell these stories.
Even though personal stories (yours) figure prominently in my psychotherapy practice, true life stories are not the primary focus of my path as a  traditional storyteller.  My passions, as a teller, rests with ancient Celtic tales of gods and spirits, whose seemingly unpronounceable names scare away the faint of heart and whose themes point to the timeless nature of archetypal wisdom.  By lifting us out of our preoccupation with the present and with our own self concern, Mythology can help us find humour, depth, pathos, and insight through traditions that brought us this far but are fading fast in a fast-food world.